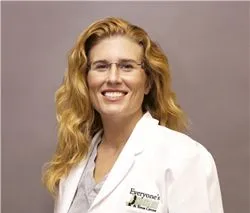 Christine Gilliam, M.D.
Otolaryngologist in San Antonio, TX
Everyone's ENT & Sinus Center
"At Everyone's ENT & Sinus Center, I take pride in doing right by our patients from great customer service, patients calls returned the same day, transparent billing, friendly educated staff, advanced diagnostic and surgical technology, latest in minimally invasive surgery and in-office procedures, comprehensive testing, and a vast range of treatment plans. I'm constantly trying to improve myself and my knowledge to take care of every patient the way I want to be treated with not only care and compassion, but truth and honesty."
Dr. Christine Gilliam, aka Everyone's ENT
I was born in Weslaco, Texas and raised in South and Central Texas. For college, I attended Texas Tech University in Lubbock, where I graduated magna cum laude along with Honors in biology. After receiving my Bachelor of Science in Biology, I went on to medical school at the University of Texas Medical School at San Antonio .
While in medical school, I was inducted into AOA, the International Medical Honor Society . Then it was on to my internship in general surgery and residency in Otolaryngology-Head and Neck Surgery at The University of Missouri Hospitals and Clinics . During my residency training, I had the privilege to train under some of the top otolaryngologists in the country and present groundbreaking research at international meetings. After getting Board Certified in Otolaryngology-Head and Neck surgery, I did additional training and achieved a fellowship in Otolaryngic Allergy.
I moved back in San Antonio to the North Central-Stone Oak area in 2006, and have had the privilege to run my practice and raise my kids in the area since that time. I am one of only two remaining doctors in San Antonio that have performed balloon sinuplasty since 2006. With coming to San Antonio, I brought my training in Sublingual Immunotherapy (allergy drops), and was the first ENT in town to offer allergy drop therapy.
I enjoy all the aspects of otolaryngology, and have tried to stay ahead of the curve in technology, skill level, education, and treatment options. A mentor during my residency training advised me that I was the shepherd and my patients were my sheep, I was to always take care of them and in return they will take care of me. I have always tried to remember this and to not get swept up in the hype of a "new product" or push marketing before integrity. My desire is to find what technology, surgery, or treatment is best suited for each individual patient and have the knowledge to offer those options.
Hopefully, my passion for learning and achieving along with the desire to do right by my patients, allows me to live up to being called "Everyone's ENT".
Board Certified by America Board of Otolaryngology
Member of American Academy of Otolaryngology- Head and Neck surgery